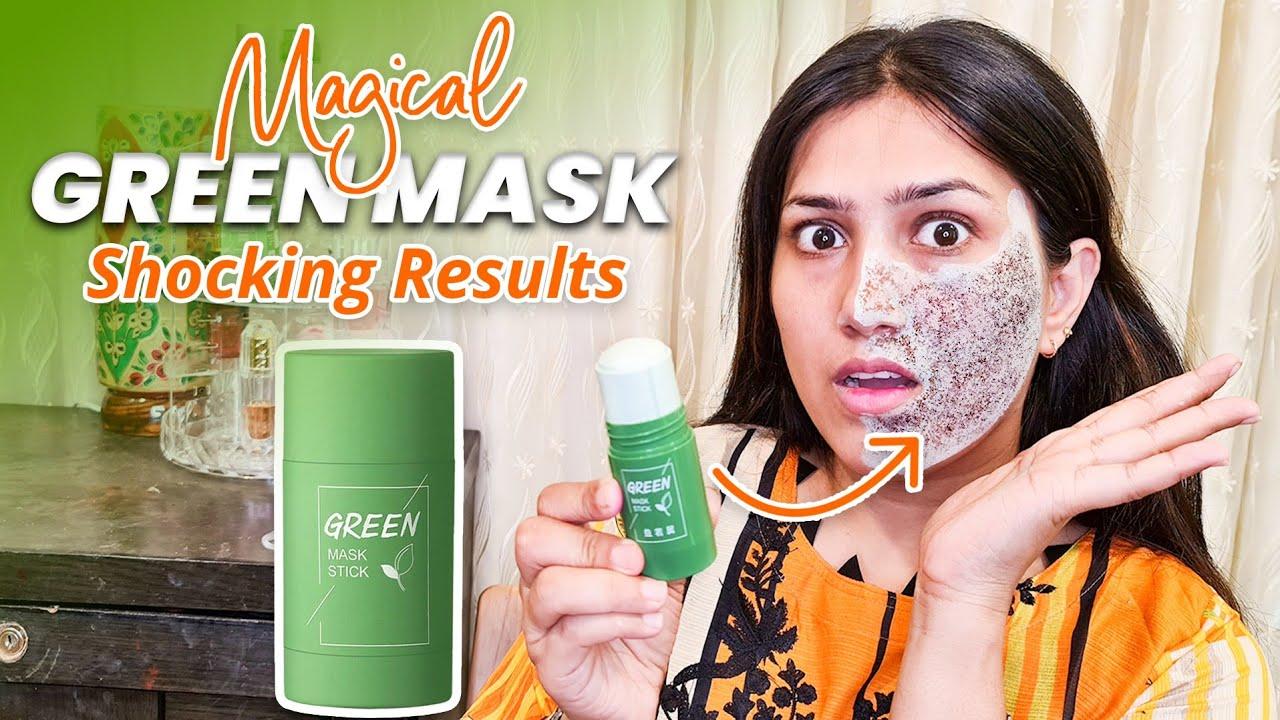 You might have seen lots of videos on YouTube, Instagram, and Facebook featuring green mask sticks. In most of the videos, a person applies a layer of the pack on the skin and his scars and blackhead disappear magically. Green Mask Stick is Real or Fake or Should you buy it or not Today, in this blog, we will do some scientific review of the Green Mask Stick along with its side effects and benefits.
I would say, yes! you can purchase the product and use it accordingly. But, if you will ask me if the video on Green Mask Stick is real or fake? To be honest, I would say do not expect any magical results as shown in videos. I have purchased one, and it provides excellent skin hydration but not in the way shown in the video.
Green mask stick review or green stick mask Review
There are several brands of green tea stick-on clay masks available on the internet now, including Median, Qklovni, Mengsiqi, Ofanyia, etc. This mask claims to remove blackheads completely and lighten the skin tone a few shades. In a few videos, it was shown that the product used chia seeds as blackheads to make the advertisement seem more interesting. However, some reviews address the issue of skin lightening. In their explanation, they say that the tone doesn't get lighter, but the product does remove some blackheads. Such strategies mislead and confuse consumers. People cannot fully enjoy the product or service.
Geen mask stick Product description
The product claims that applying a thin layer of mask and leaving it for 15 minutes can provide you clear skin, enhance skin moisture and elasticity, improve complexion, deep clean the pores by removing blackheads or whiteheads, balance the skin pH, and cure acne. The mask has a bit of clay-like texture and has a decent and refreshing fragrance. The product comes in a small green box and is very handy. It is a small stick and is travel-friendly.
Directions to apply the green mask stick: Clean the face with a cleansing milk or just wash it with mild warm water. Apply the green stick mask evenly on the face or on the regions where there are more blackheads. Leave it for 10-15 minutes and then wash it off. For oily skin people, the recommended use is 2-3 times a week, once a week is recommended for a normal skin type and mixed skin individuals can use 2-3 times a week. Now you know very well that a green mask stick is real is fake!
Scientific review of ingredients of green mask stick
The product contains the following ingredients;
1. Green Tea Extract
Our skin when comes in contact with UV Rays, accelerates skin damage and the skin aging process. Green Tea Extract is an abundant source of plant polyphenols that contain significant antioxidant, chemopreventive and immunomodulatory effects in protecting the skin. Applying the source of green tea extract on the skin and healing the skin naturally and slowing down the aging process by oxidizing toxins present on the skin. According to a study published in 2012 Green tea extract is found to help with inflammation and reduce the chances of skin cancers.
2. Hydrolyzed Collagen
Collagen is a protein that is naturally produced in our body and plays an essential role in providing skin elasticity. Hydrolyzed collagen is formed by converting complex collagen into simpler forms. A study was published in 2019 on 72 females middle-aged females which concluded that collagen is responsible for maintaining;
Skin Hydration
Provide a healthy skin glow
Skin Elasticity
Slow down the aging process
3. Methylparaben
Methyl-paraben is a preservative that is used for more than a half-century in a variety of cosmetics. Some scientific studies say that it is can cause skin cancer when applied to the skin in exposure to direct sunlight while some studies do not favor it. So, there are mixed results for the same.
4. Propylene Glycol
Propylene glycol is known to form a protective layer on the skin and locks water molecules in the skin. It is well known for its water absorption and water attraction properties. It is very effective for providing a smooth and radiant-looking skin texture.
5. Carbomer
Carbomer is a common ingredient used in various cosmetic products to add viscosity or thickness to it. It, when coming in contact with water, has the capacity to increase in volume up to 10,000 times its original size. Many studies were conducted to test the safety of Carbomer and concluded that it is safe for skin application without any harmful effects.
6. Sodium Hyaluronate
It is used to treat dry and flaking skin. Sodium Hyaluronate has water-absorbing properties. It is involved in skin repair, tissue regeneration, skin rejuvenation, skin tightening, reducing scars, and diminishing the wrinkle appearance process.
7. Allantoin
Allantoin is well known for its skin lightening properties and exfoliation of the topmost skin layer. It is a chemical present in many skin-lightening products, in fact, it was smuggled as a drug in Nigeria due to its skin-lightening effects. Allantoin can reduce the appearance of skin scars and pigmentation.
Harmful Effects: Along with the above-mentioned ingredients, there are a few chemicals present in green stick masks that may cause skin irritation, photosensitivity, and skin allergies such as hydroxyethyl Cellulose, dipotassium Glycyrrhizinate, and disodium EDTA.
Another better alternative of poreless deep cleanse mask stick/ green mask stick available in the market
There are some amazing alternatives available in the market with amazing results;
The Moms Co. Natural Clay Face Mask with Moroccan Lava Clay
The product has a 4/5 rating on amazing from its customers. The product description states that is it best to remove, excessive oil and remove impurities. It contains morocco on lava which extracts dirt from the skin. Also, it can unclog the clogged pores. It detoxifies the skin and leaves the skin bright. The most important thing is that it is free from parabens, sulfates, and mineral oils.
Matra Vitamin C French Rose Clay Kaolin Mask
The product is best suited for skin lightening and brightening. It can remove acne and pimples from the skin. Also, it is rich in Vitamin B complex and Vitamin C which promotes skin regeneration. This clay mask improved skin elasticity and cell renewal.
WOW Skin Science Anti-Aging Fuji Matcha Green Tea Clay Face Mask, 200 ml
WOW, Skin Science Coconut Water-Full Cream With Hyaluronic Acid will brighten your complexion and restore your skin's natural suppleness. The goodness of coconut water, coconut oil, hyaluronic acid, and pro-vitamin B5 make this cream rich and moisturizing. In addition to hydrating and soothing very dry skin, it also gives it a youthful appearance. Coconut water, rich in vitamins, antioxidants, and minerals, fades blemishes and age spots, resulting in an even-toned complexion. Skin softening cream spreads easily and gets absorbed into the skin so that your skin can breathe while remaining nourished at the same time. It is a cream made in the Himalayas.
Also read about:
Treatment for Urinary and Stress Incontinence
How WCB Physiotherapy Facilitates Recovery and Return to Work after Work Related Injuries
Accelerating Recovery The Role of Physiotherapy After a Motor Vehicle Accident